No Comments
5 Questions Every Patient Should Ask Before Getting a Dental Implant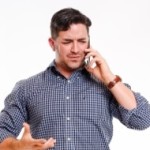 Dear Patient,
Before you consider dental implants, please do your research. Not all implants or implant doctors are created equal. Implants are amazing and can change your life, but be sure you know exactly what you are getting. Here are 5 questions you must ask the doctor before saying 'yes' to implants.
Where did you do your implant training?
Training to place implants can vary greatly. There is everything from weekend courses and on-line tutorials, to rigorous classes with long term support and retraining.  Trust me; you don't want a doctor who watched a tutorial on YouTube.  Ask if the doctor belongs to professional associations such as the American Academy of Implant Dentistry (AAID).  This group requires at least 300 hours of additional education on implants.
What exactly is your implant experience?
While everyone has to start somewhere, they don't need to start with you.  Implants are fairly complex (albeit safe) medical procedure. The experience of your doctor will go a long way, and experience is how MANY implants the doctor has placed, not how LONG they have been placing them.  There are some docs that will place more implants in one month that some folks ever will.
What happens if my implant fails? 
Now, don't let this scare you. On occasion, the implant simply doesn't take. If it happens to you, your doctor needs to help you understand the process. The doctor should put you at ease and let you know that it does happen and there's no need to worry.
What is the true cost? 
If you could drive any car in the world, what would it be?  Now, if you could drive only one car for the rest of your life, what would it be? Amazing, how your criteria changes.  Everyone has a budget, and implants are certainly an investment. However, bargain shopping for medical procedures might not be the best long-term plan for cost savings. Ask what financial options are available. Everyone deserves the best care available.
Can I see some before and after's? 
Always ask to see before and after's. Ideally, ask to see a case similar to yours. Most people want to feel good and they want to look good. Implants should accomplish both of these goals. You should be excited about your new smile, both aesthetically and functionally.  If you've been living with an uncomfortable solution, your life is about to improve immensely.
While this list is hardly comprehensive, it'll get you on the right path.